Medical and cosmetic issues can cause feelings of self-consciousness, but with our help, you can exude the confidence you've always wanted.
That's why we founded Skin Expressions — a skincare program for life. Skin is the largest organ we have, and visually expresses our inner health and wellness. What do you want your skin to express? Confidence, happiness, youth? We'll help you achieve and maintain the healthy, beautiful look you deserve.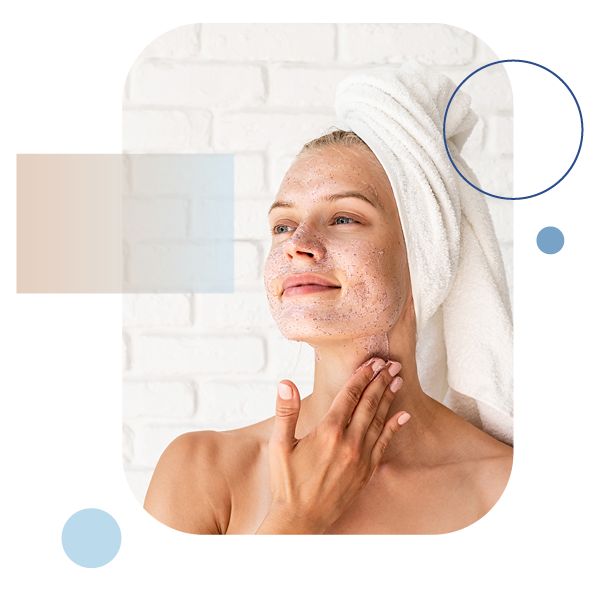 Customized Skincare Plans
Every person is unique, so why would you settle for a skincare regimen that everyone else has? Our Skin Expressions program matches you with your own personal cosmetic skin expert, who will create the best customized skincare plan for you.
What if you have something specific you want to change to help you gain that glow of confidence? At Pacific Dermatology, one of our aestheticians will give you a thorough consultation, listening to your goals. Then, you'll receive your customized skincare plan to help you look and feel better than ever.
Skin Expression Experts
Meet the Skin Expressions aestheticians and aesthetic nurses ready to make a skincare and cosmetic treatment plan for you.
Felice Puppe

Medical Aesthetician

+

In 2007 I decided to pursue a new passion and become a licensed esthetician. This would allow me to empower my patients with a better understanding of maintaining beautiful and healthy skin. My pursuit of knowledge in the dynamic, ever changing skincare industry ensures that I will stay informed of the latest technologies and cutting edge treatments. My approach to skincare has always been RESULTS and meeting individual skincare needs, through customized treatments and client education.

Nora Reyes

Medical Aesthetician

+

Nora has always had a passion for beauty and skin. After being burned out from corporate sales world, she decided to go back to school and get her esthetic license. She has worked for several med-spas and always knew she wanted to be part of a dermatology practice. She is excited to make each person look and feel their absolute best and help her patients achieve their skin goals.

Rachel Ruhlman

RN, BSN, Aesthetic Nurse

+

Rachel graduated as a registered nurse and earned her Bachelors of Science In Nursing. Since then, she has had a passion for aesthetic dermatology. Prior to joining the Pacific Dermatology team, she worked with another leading Allergan aesthetic dermatology office. She has dedicated her aesthetic career to helping patients look and feel their best, providing safety and education, as well as delivering natural looking results. Rachel specializes in lasers, neuromodulators, and dermal fillers.
Specialty Skin Treatments
Diamond Glow
Using 3-in-1 technology, this treatment EXFOLIATES to uncover renewed skin, EXTRACTS to deeply cleanse and remove debris from pores, and INFUSES skin with a nourishing pro infusion serum. This treatment will enhance clarity and luminosity in the skin. (Recommended series of six for maximum results.)
Medical grade chemical peels
Chemical peeling is a procedure that aims to accelerate skin exfoliation using chemical substances, resulting in renewed, healthier-looking skin and a more uniform complexion. Peels can be light, medium, or deep depending on the desired result.
acne treatments
For patients that have clogged pores and are in need of deep extractions, acne treatments focus on clearing the skin of recurring breakouts using products designed to deeply cleanse pores.
back treatment
This treatment is designed to clean and correct acne discoloration and congestion on the back.
custom facials
Facials are customized to your skin's exact needs, creating a healthy and glowing look. After a thorough skin consultation, you will experience a deep pore-cleansing enzyme application, followed by exfoliation, and gentle extractions. This is finished up with a custom mask and corrective serum infusion to leave the skin feeling clean, hydrated, and beautiful.
Botox Injections
Injections will help significantly reduce wrinkles, eliminate frown lines, or smooth crows feet to keep you looking young and vibrant.
Microneedling
This treatment enhances collagen and elastin growth to promote new, youthful skin.
PCA
Rebalance Moisturizer
Clearskin Moisturizer
Silkcoat Balm
C&E Advanced Complex
Hyaluronic Acid
Brightening B3 Serum
Hyaluronic Acid Lip Booster
Blemish Control Bar
Skin Medica
TNS Advanced + Serum
HA5 Serum
Total Defense & Repair SPF
Neck Cream
ZO Skin Health
Gentle Cleanser
Hydrating Cleanser
Exfoliating Cleanser
Calming Toner
Complexion Pads
Oil Control Pads
Rozatrol
Vitamin C 10%
Instant Pore Refiner
Daily Power Defense
Brightalive
Recovery Cream
Renewal Cream
Hydrating Cream
Wrinkle and Texture Repair
Skin Brightening Retinol .25%, .5%, 1%
Growth Factor Serum
Complexion Clearing Mask
Firming Serum
Powder Sunscreen
Revision
Intellishade Original
Intellishade Matte
Nectifirm
Elta MD
UV Sport
UV Clear
UV Elements
UV Facial
UV Sheer
If you would like to receive a call from one of our team members within 48 hours, please complete the required information and we will be happy to assist you.
Please do not email if you have an urgent matter and we ask that you refrain from emailing protected health information.